GenUs BioSystems standard gene expression service includes all materials, processing, quality control, and reporting - including follow-up analysis for a single price. Specialists in small, difficult sample handling we regularly handle sample sizes down to 10 cells (Total RNA yield ~ 100 picograms) utilizing state of the art single and double amplification protocols.
Zebrafish (Danio rerio) Gene Expression Array - Agilent Platform
Comprehensive transcriptome coverage
43,803 D. rerio probes represented
V1 contents sourced from RefSeq, UniGene, TIGR and UCSC Zfish, V2 contents sourced from RefSeq, UniGene, TIGR, Ensemble and UCSC Zv7
4 x 44K slide format printed using Agilent's 60-mer SurePrint technology
Total RNA Requirements Utilizing GenUs BioSystems:

Standard Service: > 300 nanograms Total RNA yield
Special Single Amp Service: > ~20 nanograms Total RNA yield
Special Double Amp Service > ~100 picograms Total RNA yield
GenUs regularly delivers dynamic range showing greater than 100,000 fold change and >5 logs. This is significanlty higher than the average 1,000 fold change and 3 logs of data provided by most labs and platforms.
Back to Microarray Processing Overview and Species Listing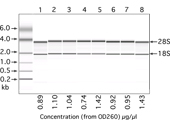 To ensure the highest quality results, GenUs BioSystems uses the most advanced RNA Isolation technologies available. Our researchers are experts in isolating RNA from small or large tissue samples. And our proprietary protocols and processes can further help ensure that gene expression experiments are run using high-quality RNA.